Buying Ezy Wheels
Our Exclusive USA representative

Ezy Wheels
Ezy Wheels are a simple and cost effective solution for moving shipping containers.
Available models include:
Standard for Australian and NZ customers using a locally available hub assembly and suitable for moving 20 foot containers in light duty situations. WLL certified to 4,000 kgs ( adapter only)

Heavy Duty USA version to suit 3,500 pound US standard hub assemblies . Also available in Australia and suitable for moving partially loaded 40 foot containers. WLL certified to 4,000 kgs (adapter only)

Ezy Wheels Extreme. Ratings to 6.5 tons per axle. Suitable for extreme duty applications to move the heaviest of containers in the harshest environments. Suitable for fitting dual wheels on each axle where the terrain requires. Please contact us with your specific WLL certification requirements.
Shipping containers can be difficult to move without the right equipment. These rugged and simple adapters mount in a jiffy to any shipping container so you can lift the other end and tow along like a trailer in your yard or around the farm.

Paired with suitable wheels and tyres, these are ideally suited to off road applications where the terrain is less than smooth or soft.
Ezy Wheels Heavy Duty are also available from our resellers, ebay and direct from us.


03 90210667
sales@ezyengineering.com.au

Also available from our resellers:
Ballarat Containers VIC 03 5334 1130

Ezy Wheels Extreme 5.5 Ton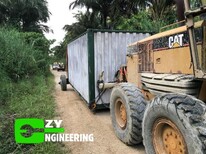 Ezy Wheels Extreme 5.5 Ton